I love cornbread, especially with a big square of butter melting all over it. My mom taught me to make it in a cast iron pan when I was--umm, maybe 7 years old.
1. First of all, give the baby a chocolate cookie. He will happily make a big mess while you make the cornbread.
2. Put about 5 tbsp shortening, bacon fat, or butter in your cast iron pan. Place the pan in your oven while it is preheating at 425 degrees.
3. Mix together 1 cup flour, 1 cup cornmeal, 1/4 cup sugar, 1 tbsp baking powder, and 1/2 tsp salt.
4. Add 1 cup milk and 1 egg. Stir just until mixed.
5. By this time, the fat in your pan should be melted, and the pan should be hot. Carefully tilt your pan to make sure it is well coated with the fat, then pour most of it into the batter. Quickly stir and return the batter to the pan. You should hear a nice sizzle when you pour the batter into the pan.
6. Bake at 425 degrees until it's done (you know, the whole toothpick thing). It takes about 15-20 minutes.
7. Turn upside down onto a large plate. Cut into wedges and serve.
H
annah
M
ix
This post is part of a linky party hosted by
Raising Four Princesses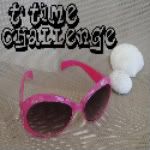 and